Diego Martín Ortega is Counsel and directs the Procedural Law and Arbitration Department at URA Urquiza Abogados, from the office of URA Urquiza Abogados in Malaga.
He is specialised in civil and commercial procedures, especially those related to breach of contract, challenging corporate resolutions, directors' liability, liability for damage, bankruptcy proceedings; and claims for amounts. 
Recurrent advice for leading companies, both Spanish and foreign, mainly in the financial sector, real estate, healthcare, tourism and construction. 
Frequently participates as a speaker in diverse forums related to Procedural Law and Arbitration.
Has been a member of the Bar Association of Malaga since 2002.
On concluding his degree in Law, he began his specialisation in Private Law, obtaining the Diploma of Advanced Studies in Civil Law, while collaborating with the Civil and International Private Law Department at the University of Seville.
Since 2004, he has practiced law at prestigious multinational firms such as URÍA MENÉNDEZ and GÓMEZ-ACEBO Y POMBO, also undertaking leadership of legal advice for major companies such as REALIA and the BLUEBAY Group.
In January 2019, he joined the Procedural Law and Arbitration Department at URA Urquiza Abogados as Counsel, undertaking its leadership.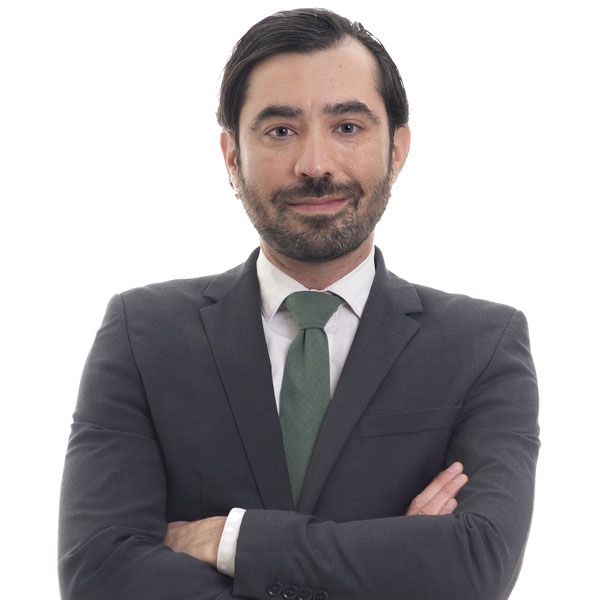 EDUCATION
Graduate in Law at the University of Malaga (1995-2000).
Diploma in Advanced Studies (D.A.S.) in Civil Law at the University of Seville, with an A grade (September 2003) that proves he satisfactorily completed research work (thesis "Equidad y Orden público en el arbitraje privado español", directed by Professor Ángel López y López; presented, read and graded A) and having completed the 20 mandatory credits in the course period (October 2000 – June 2001).
Master in International Law at the Instituto Superior de Derecho y Economía (I.S.D.E.) (2003-2004).
University Expert in Criminology at the National Distance Education University (U.N.E.D.); 25 credits in academic year 2009-2010.
Master in Strategic Studies and International Security at the University of Granada (2014-2015).
EXPERIENCE
URÍA MENÉNDEZ, Madrid. Senior Associate in the Public and Procedural Law Department (September 2004 – May 2009).


GRUPO REALIA, Madrid. Head of the Procedural Area of the Legal Department (May 2009 – March 2010)


MARTÍNEZ-ECHEVERRÍA Y FERRERO, Madrid. Lawyer in the Public and Procedural Law Department (March 2010 – March 2011).


GÓMEZ-ACEBO & POMBO, ABOGADOS, S.L.P., Málaga y Madrid. Senior Associate in the Procedural Law and Arbitration Department (March 2011 – August 2017).


GRUPO BLUEBAY, Málaga. Director of the Legal Department (September 2017- September 2018)


URA URQUIZA ABOGADOS, Málaga. Counsel and Director of the Procedural Law and Arbitration Department (January 2019 - present)
AREAS OF PRACTICE
Procedural law in civil and commercial affairs

Civil and commercial contracts

Economic criminal law

Bankruptcy law
PUBLICATIONS
·Intelligence Analysis: Analysis Techniques and Sources of Error. An Approach from the Argumentative Theory", Revista de Estudios en Seguridad Internacional, Vol. 2, No. 1(2006), pp.103-123.
·"La regla de la no presunción de la solidaridad en la jurisprudencial del Tribunal Supremo",  BDInternet Economist & Jurist; web content; 2004
LANGUAGES
English
CONTACT
Email: This email address is being protected from spambots. You need JavaScript enabled to view it. 
TELEPHONES:
(+34) 952 223 802
(+34) 658 059 507